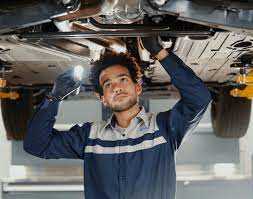 As the winter approaches, many of us need to start thinking about our cars. While Volvo makes cars built for the cold winter months, these vehicles still need special care to ensure they perform their best in the snow. Your Volvo S60 might need a new set of tires, or you might even need an alignment rebalancing to ensure your XC90 stays properly fixed above the ground. No matter your winter service prep needs, we can help you out here at Gengras Volvo Cars of East Hartford. Let us tell you more about the top services your Volvo may need for proper winter prep.
Our Volvo service center is located on-site at our dealership in East Hartford, and we proudly serve the greater Hartford area.
Batteries
Just like any electronic device, the battery of your Volvo is an essential part of its functionality, especially if you drive a Volvo Recharge hybrid or EV. The colder months can cause your car's battery to burn through power faster as the engine works overtime, so you should make your battery's charge a priority. Our service center has state-of-the-art equipment to test your battery and ensure it still carries a full charge. We can replace or charge a battery to keep its power levels at maximum for the winter if needed.
Brakes
The brakes of your car provide a critical element of safety, helping to bring your vehicle to a stop when needed. Given how icy and slick the roads can get in the winter, the health of your brakes should be a paramount concern for you. The brake pads should be at least a quarter-inch thick or more, and the brake fluid reservoir under the hood should have fresh, topped-off fluid. Our technicians can also inspect your vehicle's lines, rotors, and calipers to ensure both the front and rear brakes remain in excellent condition.
Filters
Your Volvo has several different filters to ensure many critical systems stay clean and free from outside contaminants. There is the cabin filter that keeps harmful particles out of the heating/air conditioning system, the engine air filter that ensures only clean air enters the engine block, the fuel filter that keeps dirt and other particles from entering fuel lines, and the oil filter that helps keep the engine lubricated. All of these filters should receive attention before you go out driving in the winter.
Wipers
The windshield wipers help keep things clear for you and can chisel past the ice and snow that accumulates during the winters near East Hartford. The blades of your wipers will wear down over time, so you should always have a fresh set of wiper blades on before the snow and ice gets too intense. Your parts center has the right-sized wipers to fit any Volvo, new or used.
Fluids
All the fluids of your Volvo are essential to help it function in the snow. A commonly-requested fluid is windshield washer liquid, which helps the wiper blades keep your outward visibility perfect. At Gengras Volvo Cars of East Hartford, we have all the approved washer fluids your Volvo needs, including specialty blends designed to stay fresh in subzero temperatures. We also have other essentials, including antifreeze, which should stay fresh and topped off before winter driving.
Keeping Yourself Safe in the Winter
Winter can prove a hazardous time to travel, depending on the weather. However, drivers can do several things to keep themselves safe this winter:
Limit nonessential trips
Drive slower in heavy snowfall, especially when the snow starts t set on the road
Avoid braking in snowdrifts
If you start to lose vehicle control, tap brakes slowly and bring yourself to a gradual stop. Slamming brakes on icy roads can cause you to lose even more control
Keep essentials in your vehicle in case of an emergency or vehicle shutdown- emergency cell phone/charger, a blanket or spare winter coat, high-energy snacks, and hand warmers
Schedule a Service Appointment Today
While all of these service projects might look intimidating to an auto novice, you do not have to be a master mechanic to give your Volvo the care it deserves. You can schedule a service appointment with our technicians at Gengras Volvo Cars of East Hartford for detailed maintenance and expert care.