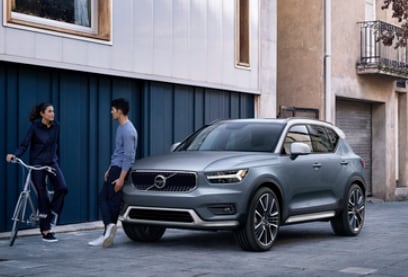 When you are in the market to upgrade your vehicle, look no further than what the new Volvo XC40 makes available to you. This luxury compact crossover SUV has everything you could want or expect in a new car. It has the capabilities of offering you years' worth of safe and reliable driving. Come to Gengras Volvo Cars in East Hartford today to test drive the new Volvo XC40 today.
Sleek Design
The new Volvo XC40 is a showstopper and offers an eye-catching design. It features a sporty and sophisticated body with beveled lines in and around the doors. it also comes with black accents that pair well with any color in which the new XC40 from Volvo is available.
When visual appeal is one of the top priorities on your car shopping list, you will find it in the new Volvo XC40. It rivals any design found in comparable models and will impress you with how stylish and upscale it looks.
Reliable Driving
For all of its sleek good looks, the new Volvo XC40 also offers safe and reliable driving. As a crossover compact SUV, it is built to be driven over a variety of road surfaces. You can take it out just about anywhere and know it will perform well on any surface over which you drive it.
Roominess
The new Volvo XC40 also offers a luxurious interior that is roomy and comfortable. You avoid feeling cramped and crowded. You also have ample room in the cargo area for holding groceries, suitcases, camping gear, or other items you may need to pack up and bring along with you.
Come see what the new Volvo XC40 has in store for you now. Visit us at our Crest Volvo Cars location to see what this impressive crossover compact SUV looks like. Visit our East Hartford location to take one out for a test drive today.