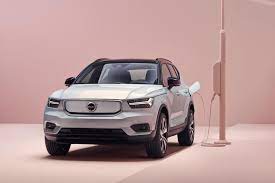 Volvo has committed to providing a hybrid or fully-electric powertrain for all of its cars, crossovers, and SUVs. This is excellent news for drivers who are looking to decrease their carbon footprint and reduce their dependence on gas-powered vehicles.
As it stands, Volvo has a goal of having 50% of its sales volume to be electric and have one million electric Volvos on the road by the year 2025.
Since 2019, every new Volvo car, crossover, or SUV will have an electric motor. This decision is a significant leap towards dedicating themselves to environmentally-conscious measures. Volvo is a brand dedicated to passenger and driver safety, now they're adding environmental protection to their brand image.
The first fully-electric Volvo is the XC40 Recharge - a perfect SUV for the Connecticut lifestyle. With rugged performance, ample room for gear, and plenty of battery power for mountain adventures, the electric Volvo XC40 Recharge is ready to get you wherever you want to be. Get an electric Volvo XC40 Recharge at Gengras Volvo East Hartford and become a part of the all-electric revolution. Gengras Volvo in East Hartford will equip environmentally-savvy drivers with the latest and greatest electric vehicles available on the market. Not only are you helping improve the environment, but you're also indulging yourself with optimal luxury and passenger safety features.
Contact Gengras Volvo East Hartford today to test drive an XC40 Recharge and to learn more about Volvo's electric and hybrid vehicles!