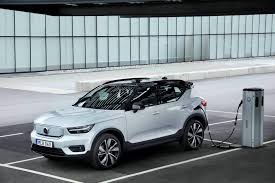 While the 2021 Volvo XC40 Recharge may be Volvo's first electric car, it's made a strong enough impression to make many drivers completely rethink their expectations of e-mobility. This triumph of engineering shows that making the switch to fully electric driving doesn't come with any trade-offs in distance, performance, or refueling time.
To that end, let's take a look under the hood to understand why making the switch to electric is an absolute game-changer for the way that you think about driving.
Charging at Home Means Never Having to Visit a Gas (or Charging) Station Again
You read that correctly-getting behind the wheel of the XC40 Recharge means that you'll never have to visit a gas station again. While this means that you'll have to find a different go-to spot for energy drinks and Slim Jims, it also represents a massive quality-of-life increase to your driving experience.
Volvo's at-home charging stations mean that you can charge your car with the same routine ease as charging a phone or pair of AirPods. These kits are easy to install by yourself, meaning that you don't have to worry about any expensive contractor bills when you make the switch to electric. Even better, you can optionally go for 150kW DC fast charging which allows you to maximize your recharge speed beyond some public charging stations!
It's not hard to see the benefits of making the switch to electric. Think about all the time, stress, and money that you can save by charging your vehicle at home. If you want a sense of just how much time and money you save, then consider …
The Volvo XC40 Recharge's "Refuel" Times Are Fast Enough to Race Your Phone
If you plug in your 2021 Volvo XC40 Recharge to a 150kW DC home charging station at the same time that you plug in your phone, there are good odds that your car will be charged first.
When electric vehicles first drove off the assembly lines in the 2010s, drivers were rightfully concerned about long recharge times. After all, an electric vehicle can boast a good driving range and battery size, but those benefits don't mean much if they require a full weekend of charging. Some of these fears were realized, as early electric cars could see recharge times that lasted as long as 40 hours-effectively meaning that the car can only be driven 5 days per week.
Meanwhile, the 2021 Volvo XC40 Recharge can accomplish an 80% charge in just 40 minutes! You read that correctly-under the right conditions, this vehicle can easily recharge in under an hour! This is especially awesome when you keep in mind ...
You Can Measure the Volvo XC40 Recharge's Range in Days, not Miles
Of course, neither of the benefits mentioned above would mean much if a vehicle's pure electric range confined you to neighborhood drives. Thankfully, the 2021 Volvo XC40 Recharge's range is so exceptional that you can easily fit an entire week of commuting on a single charge.
Drivers can expect to get 260 miles out of a single charge. That's not a typo. Despite using a full-electric motor, this vehicle gets a better driving range than most of its combustion-engine competitors. Switching to the XC40 Recharge's electric power doesn't mean that you'll be making any sacrifices on performance-it actually means that you'll be able to accelerate to 60 miles per hour in under 4.9 seconds.
These may be three of the bigger benefits to owning a 2021 Volvo XC40 Recharge, but they're certainly not the only ones! In addition to all of the benefits provided by switching to full-electric power, you can also look forward to an incredibly luxurious interior and a full suite of next-gen driver assistance features. If you'd like to learn more about Volvo's groundbreaking push into the world of e-mobility, then visit Gengras Volvo today!
Gengras Volvo East Hartford is your destination for electric Volvo cars in North Haven. Make the switch to e-mobility by visiting Gengras Volvo to schedule a test drive!