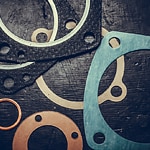 Gaskets are pieces that mechanics use to enhance automobile functional abilities. Gaskets are great for enhancing pressure within vehicles, preventing unwanted substances from entering certain compartments, and other reasons.
The most common gaskets are shaped like an O to fit inside of two parts so that it is sealed properly. Gaskets are also made of different materials. They can be used for materials like cardboard, metal, rubber, and plastic. The gasket's material depends on its basic ways of functioning. Each material has its unique advantages and disadvantages. This is why each gasket's purpose should be thoroughly analyzed to ensure that it is being used efficiently.
Gengras Volvo in East Hartford, CT in the great Hartford area works in favor of customers who need access to high-quality gaskets. This dealer is eager to inform customers about using gaskets correctly. Gengras Volvo could supply customers with the best gaskets and all of the information that they need to find them.